Español, por aquí
Ivrea! A town that during Carnival includes freshly pressed orange juice as their main treat...
Welcome to the Storico Carnevale di Ivrea, one of the lesser known Carnivals and events of the World, but probably one of the most peculiar, traditional and historic ones there are. Overshadowed by the World famous Carnival in Rio and their neighbouring Carnival in Venice, these may almost be deemed soft Carnivals when compared to the one in Ivrea… Since a picture is worth more than 1000 words, I let you draw your own conclusions with this photo ...:
As you can see, it is one of those events that doesn't go unnoticed to anyone who has the chance to take part in it. It is one of those manifestations that perfectly mixes passion, action, tradition and history in a very unique way, transforming it in one of those life-experiences that has to be lived at least once.
What can be said then about one of the oldest Carnivals in the World?
If we let the local Italians speak: si caratterizza soprattutto per il complesso cerimoniale folcloristico denso di evocazioni storico-leggendarie; it is mainly a complex and dense revelation of the legendary and historic ceremonies deeply ingrained in the regional folklore. That isn't a blant statement without reason, the historic Carnival of Ivrea dates back as far as 1808, being one of the few with Middle Age origins and still surviving without interruption to our most recent days.
In addition to the typical parade with military dressed locals, generals and orchestra, one of the main protagonists is the Mugnaia (= the Miller's daughter), who could be seen as the queen of the carnival and is a dream to every local girl since a very young age.


The peak moment of this ancient celebration is however the long awaited battaglia delle arance, the orange battle, which gathers thousands of people on Sunday, Monday and Tuesday during the Carnival period, engaging in one of the most citric battles ever. With a historical background where throwing beans and other objects was a way of communicating dissatisfaction with the parading nobility, today's representation is transmitted through tireless battles in several parts of the city. The nobles ride on carriages called carri da getto, and the angry crowd, organize into groups and neighbourhoods, who are known as the aranceri.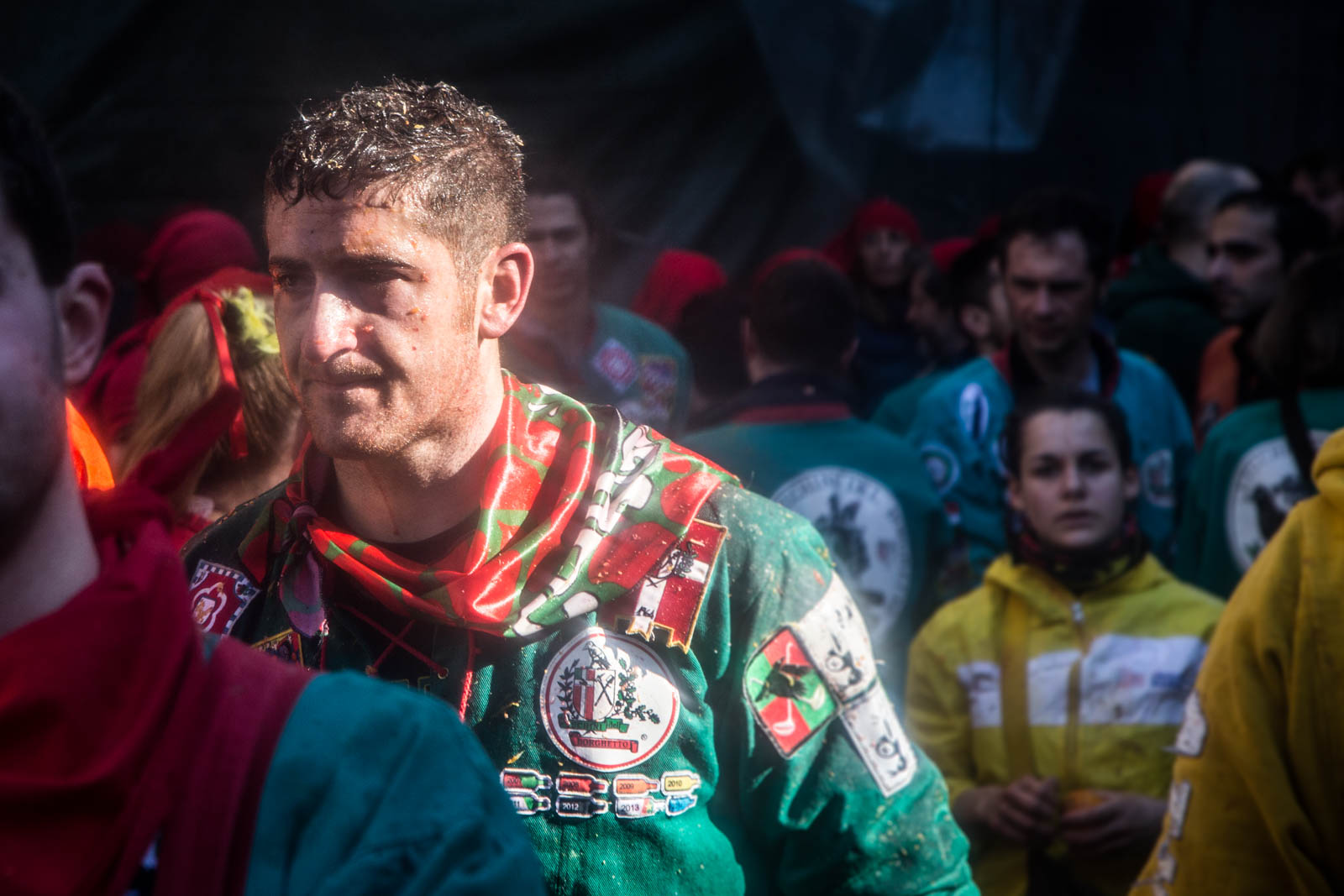 A tip for the beginners: arm yourself with a red hat, with which you'll show your your neutrality and, hopefully, will get less orange bullets on your head... Otherwise, the aranceri will show you what a 5€ investment would have spared you...
If you get the chance, do not hesitate, you will live a unique carnival with tremendous energy, full of tradition and where the main costume is the strength and tenacity of the people!
Remember the battle dates:
Every Sunday, Monday and Tuesday during the Carnival weekend, starting every day at 14:00
Click here for more info.
This post is part of my Riviera Carnival Triangle, stay tuned
on Twitter & Instagram for more!